ESVAGT is an innovative operator in the offshore wind sector, with its highly specialised vessels providing maintenance support to this fast growing segment. ESVAGT's vessels ('SOVs') provide full time accommodation to wind farm engineers, allowing safe and efficient conduct of continuous maintenance programmes which maximise electricity generation from turbines, improving overall uptime, and ensuring operational robustness of the wind farms for the long term. This is increasingly important for the offshore wind industry as operators are focused on their ability to lower the total cost of energy produced in order to reduce dependency on Government support schemes.
During our ownership, we have supported the company on its journey to become the market leader in the offshore wind segment in the North Sea with approximately a 40% market share today. The offshore wind segment is forecast to contribute 54% of ESVAGT's 2020 budgeted earnings compared to around 10% at the time of acquisition in 2015. ESVAGT is well positioned to benefit from the continued rapid growth in offshore wind development in the North Sea, where almost 30 new wind farms are forecast to come online in the next five years.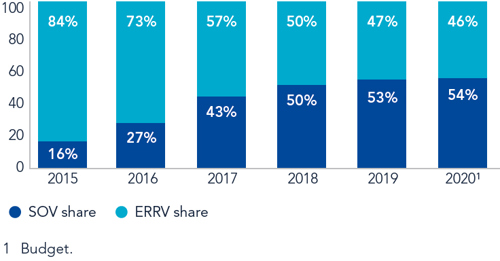 Transitioning to a low to zero-emission world requires engagement from everyone involved in the energy sector. ESAVGT started its accelerated journey towards becoming a low emission operator when we acquired the business in 2015. The management team has also set challenging targets for its future operations, aiming to be carbon neutral by 2035 and emissions free by 2050. ESVAGT has a number of initiatives to reduce its impact on the environment and to support local communities.
For example:
the business has started to offset its emissions by encouraging employee engagement around sustainability through large scale tree-planting projects and recycling incentives where the proceeds from waste disposal will fund projects in local communities;ESVAGT is developing battery and hybrid technologies, including using low emission bio fuels, for its vessels that will not only be better for the environment but also reduce the overall cost for the company; andESVAGT, Siemens Gamesa and Ørsted are together developing a drone-based solution for the delivery of spare parts and tools from a vessel to an offshore wind turbine. This will reduce fuel consumption and improve the overall operation offshore.
Offshore wind will play an important role in the ongoing energy transition and it will continue to drive our growth strategy for ESVAGT.
March 2020