What we need to create value
3i Infrastructure relies on the expertise of the Investment Manager to source, execute and manage investments, by using its extensive network.
Investment Manager's team
The Company is managed by an experienced and well-resourced team. The European infrastructure team was established by 3i Group in 2005 and now comprises over 50 people, including over 30 investment professionals.
This is one of the largest and most experienced groups of infrastructure investment professionals in Europe, supported by dedicated finance, legal, operations and strategy teams.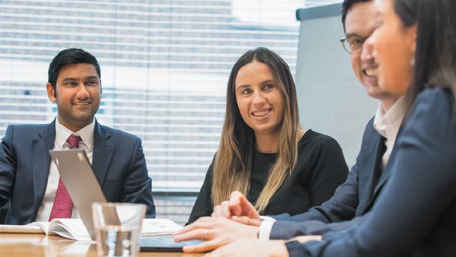 3i Group network
3i Group has a network of offices, advisers and business relationships across Europe. The investment management team leverages this network to identify, access and assess opportunities to invest in businesses, on a bilateral basis where possible, and to position the Company favourably in auction processes.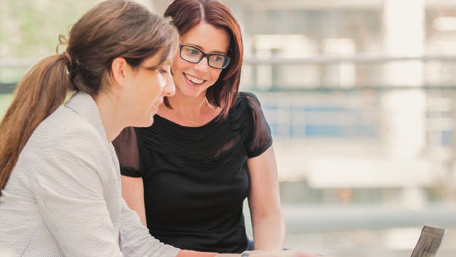 Engaged asset management
We drive value from our investments through the Investment Manager's engaged asset management approach. Through this approach, the Investment Manager partners with our portfolio management teams to develop and execute a strategy to create long-term value in a sustainable way.
Examples of this partnership include developing strategies that support investment in the portfolio company's asset base over the long term; continued improvements in operational performance; and establishing governance models that promote an alignment of interests between management and stakeholders.
We develop and supplement management teams, often bringing in a non-executive chair early in our ownership.
View examples of this engaged asset management approach.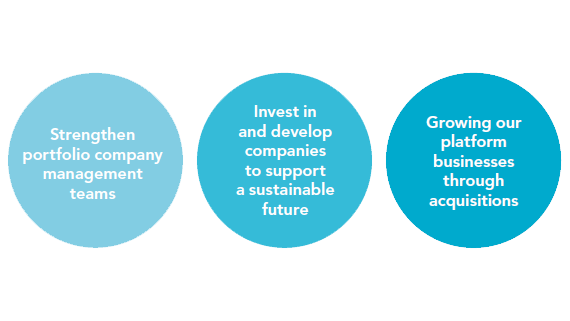 Reputation and brand
The Investment Manager and the Company have built a strong reputation and track record as investors by investing responsibly, managing their business and portfolio sustainably, and by carrying out activities through upholding the highest standards of governance, at the Investment Manager, the Company, and in investee companies. This in turn as earned the trust of shareholders, other investors and investee companies, and has enabled the Investment Manager to recruit and develop employees who share those values and ambitions for the future.
The Board seeks to maintain this strong reputation through a transparent approach to corporate reporting, including on our progress on driving sustainability through our operations and portfolio. We are committed to communicating in a clear, open and comprehensive manner and to maintaining an open dialogue with stakeholders.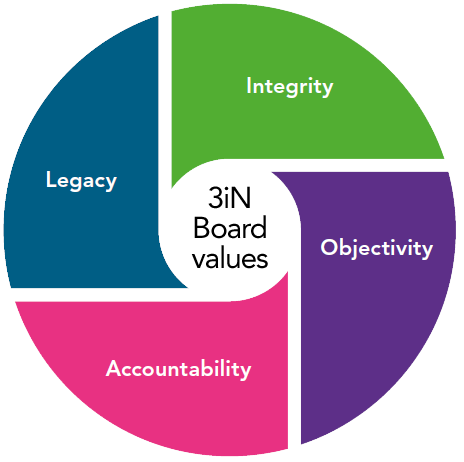 | | |
| --- | --- |
| Integrity | The Board acts with honesty, dedication and consistency, with the courage to do the right thing in every situation. The Board manages its relationships based on trust and respect. |
| Objectivity | The Board applies a fair, transparent and balanced approach to decision making. The Board values diversity of opinion and encourages different perspectives to bring constructive challenge as it discharges its responsibilities. |
| Accountability | The Board acts in the interest of all stakeholders of the Company, ensuring that obligations to shareholders are understood and met. It is mindful of its responsibility to act as a good steward of its portfolio and of the influence and impact that the Company can have on society, the communities in which it operates and the environment. |
| Legacy | The Board seeks to develop a company and portfolio that delivers long-term, sustainable value for our shareholders and society. |
Robust policies and procedures
Established investment and asset management processes are supported by a comprehensive set of best practice policies including governance, cyber security and modern slavery.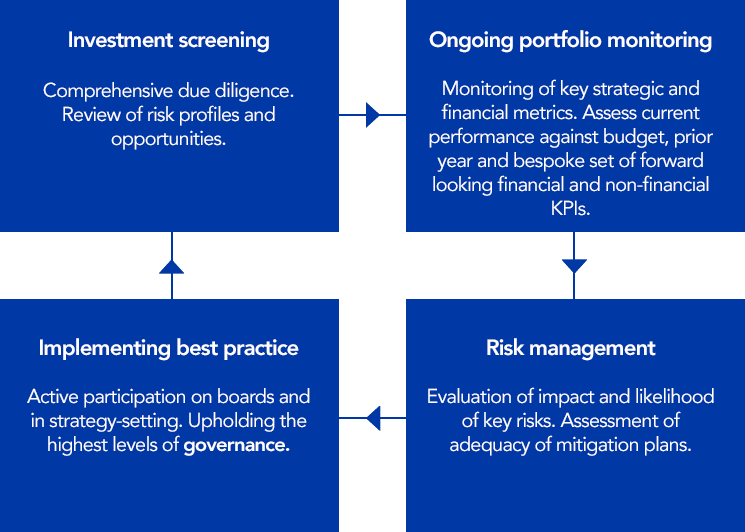 High ESG standards
Please refer to Responsible investing and Sustainability case studies for further information.
Sustainability and ESG standards are also discussed throughout our our 2022 Annual Report, particularly in the Sustainability report and the Risk report.
"There is a strong link between companies that have high ESG standards and those that are able to achieve long-term sustainable business growth."

Anna Dellis, Partner
Efficient balance sheet
The Company's flexible funding model seeks to maintain an efficient balance sheet with sufficient liquidity to make new investments. In order to capitalise on emerging opportunities, during the year we extended our borrowing facilities from £300 million to £1 billion.
Since FY15 the Company has raised equity twice and returned capital to shareholders twice following successful realisations.