ESVAGT JV awarded first major offshore wind contract in the USA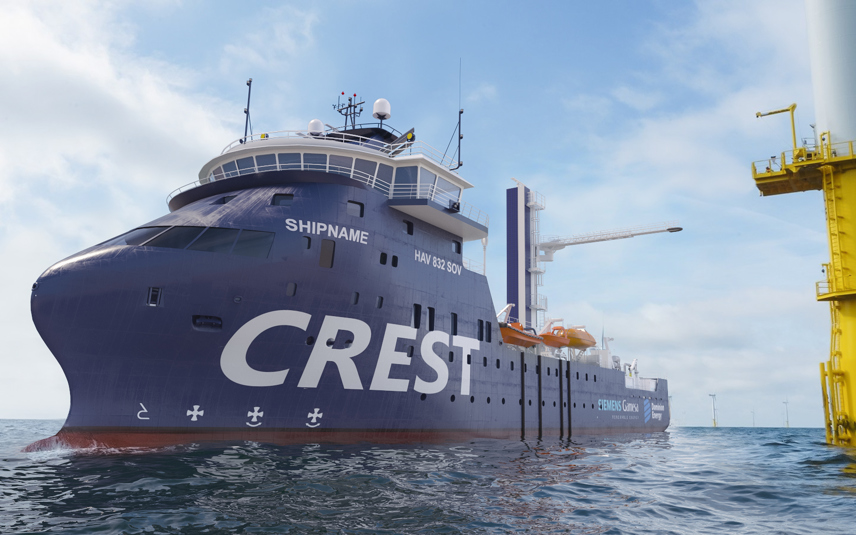 With a 15-year contract to service the largest offshore wind farm in North America, ESVAGT has made a breakthrough in the buoyant American offshore wind market.
ESVAGT's US joint venture, CREST, co-owned with Crowley Maritime, has signed its first contract in the North American offshore wind market.
Under the terms of the 15-year agreement with Siemens Gamesa, CREST will deliver and operate a new-build Service Operation Vessel ("SOV") in support of North America's largest offshore wind farm, Coastal Virginia Offshore Wind, situated off the coast of Virginia. CREST will start building the SOV imminently with commissioning taking place in 2026.
The contract builds on the existing relationship between Siemens and ESVAGT in Europe, where ESVAGT is the market leader in offshore wind SOV operations, and provides an important credential for CREST at a moment when growth in the US offshore wind market is rapidly accelerating.
The contract is amongst the very largest in ESVAGT's history, and fits squarely into ESVAGT's strategy of supporting its customers' growth ambitions in offshore wind internationally:
"This contract represents a significant milestone in our efforts to replicate ESVAGT's leading European offshore wind position in selected international markets as they rapidly develop," says Søren Karas, Chief Strategy and Commercial Officer, ESVAGT:
"There is considerable momentum in the American wind market and a promising pipeline. The combination of our unparalleled European SOV expertise and Crowley's deep local experience, provides a compelling platform in support of our clients' ambitions," says Søren Karas.
In 2021, ESVAGT and Crowley formed the CREST Wind partnership, operating within US legislation with specific requirements for local ownership, shipbuilding, and crewing.
"This vessel is an important milestone in the journey towards our ambition to develop and enable a US offshore wind market and support America's need for sustainable, renewable energy generation," said Bob Karl, senior vice president and general manager, Crowley Wind Services.
Facts CREST Wind
The CREST Wind joint venture was established in 2021 by Crowley and ESVAGT with the desire to combine the best of both worlds: ESVAGT's Market-leading European innovation, know-how, and operational experience in offshore wind, alongside Crowley's leading experience in local American logistics and fleet operation of the highest quality.
Facts ESVAGT
ESVAGT is a dedicated provider of safety and support services to the offshore energy industry. ESVAGT was founded in 1981 and has a fleet of more than 40 vessels and approximately 1,200 employees. The shipping company is the world's largest operator of SOV vessels, which form a critical infrastructure for the offshore wind industry. www.esvagt.com.
Facts Crowley
Since 1892, Crowley, from its base in Jacksonville, Florida, has developed into a company with approximately 7,000 employees within maritime, energy and logistics solutions. Crowley has +170 ships and employs more American sailors than any other company. www.crowley.com.